ANTI-GRAVITY at the Adelaide Fringe 2018
Following award-winning, sell-out performances in Edinburgh & Adelaide and receiving 'High Commendation Award' (Adelaide 2017), Kevin returns with a brand new show. Enter a space where the rules of gravity are bent and broken… Impossible illusions and levitations brought to you by the magician-scientist hybrid tutored by Penn & Teller.
Having spent half of his adult life studying Physics and half studying magic, Magic Circle Member Kevin explores the exotic space where science and magic meet. Magic is real. And he'll prove it to you.
★★★★★ 'Epic stunts' Broadway Baby
★★★★★ 'Astonishing' – Edinburgh Evening News
★★★★ 'Will leave you picking your jaws off the floor' – Advertiser
★★★★ 'Incredible feats of levitation' – All Edinburgh Theatre
Presented by:
Kevin Quantum
Scottish Magician, Kevin Quantum, has designed state of the art magic and fused it with incredible science.
Ten years ago, unassuming scientist Kevin paused his Physics PhD to become a magician, being tutored by none other than magic royalty Penn & Teller. Having now spent the first ten years of his adult life completely immersed in Physics and the next ten in magic, Kevin is the most likely the only person on the planet who's reached the required 10,000 hours needed to make you an "expert" — in both areas.
He has enjoyed ★★★★★, sell-out shows at the Edinburgh Fringe, appeared in BBC documentaries, consulted for the National Theatre of Scotland, taught Eddie Izzard magic, broken a Guinness World Record, was the first magician to perform at the Globe Theatre in London and was nominated for the Scottish Comedy Awards 2014 and 2015.
He's also one of the very few people that counts quantum physics as a hobby.
---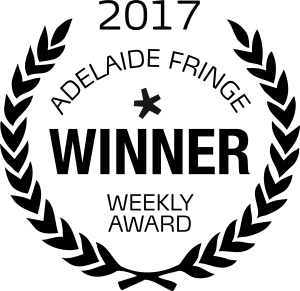 ★★★★★ "Brilliant…Delightful, funny, and surrounded by wonder and intrigue, Kevin Quantum: Illuminations is the perfect show" This is Radelaide Full Review

★★★★ "will leave you picking your jaws off the floor on the way out" Adelaide Advertiser Full Review
WEEKLY AWARD – "Best Magic Show at the Adelaide Fringe 2017″ 
---