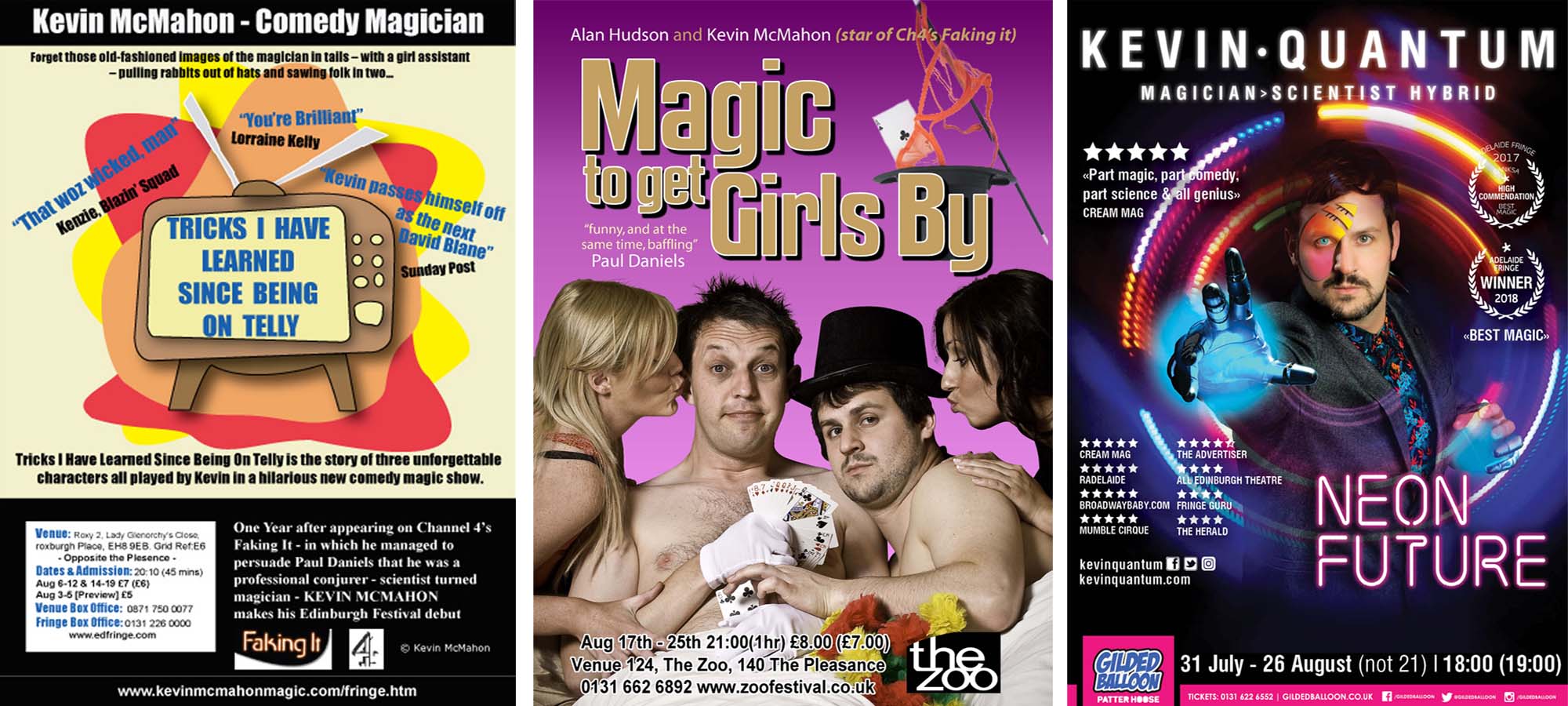 (2006, 2008 and on the right 2019 – I've been writing shows for 13 years!)
Neon Future is my 2019 show, and I've just finished scripting this. It's been as much as a struggle as always but now it's done I find myself reflecting on my past body of work.
Tricks I've Learned Since Being on Telly (2006)
Magic to Get Girls By (2008) – with Alan Hudson
Son of a Witch (2009) – with Colin McLeod
The Colour Ham (2012) – with Colin McLeod & Gavin Oattes
The Colour Ham II (2013) – with Colin McLeod & Gavin Oattes
The Colour Ham III (2014) – with Colin McLeod & Gavin Oattes
The Colour Ham – The Best Of (2015) – with Colin McLeod & Gavin Oattes
Quantum Magic (2015)
Illuminations (2016)
Anti-Gravity (2017)
And For My Next Trick (2017)
Vanishing Point (2018)
The Miracle of Christmas Future (2018) – with Charlie Caper
Neon Future (2019)
And For My Next Trick II (2019)
I've written quite a bit of material over the years, it's more than I remember.
So I thought I'd put pen to paper to talk about how I go about writing a show. It's by no means a blanket 'how to' but it may help other magicians put their thoughts in order.
It's tough, but very rewarding. I highly recommend it!
—
I'm writing this post from BRIGHTON FRINGE festival where I'm about to begin a three day run. I can't wait to get started down here with ANTI-GRAVITY my levitation themed show. This show received BEST MAGIC at the Adelaide Fringe last year and it's a privilege to continue to perform it all around the world.
Many performers often ask me what my process is for creating a show. Well for me it starts from a theme. As a scientist-magician I often take inspiration from a magic theme and how it's reflected in the world of cutting edge science. For instance ANTI-GRAVITY was originally going to be called LEVITATIONS, but it became obvious that this wasn't the best title, and ANTI-GRAVITY had a lot more punch and also reflected my character more.
Once I have the theme in mind (usually 12 months in advance) I start making notes on my phone, whenever I have an idea and also take the time to read around a topic. Discovering the research taking place in CERN right now with ANTI-MATTER was a delightful place to begin, taking me on a journey through cutting edge physics right back into magic again.
As always my love of Sci-Fi came to the fore when my new invention the 'Anti-Gravity Field Generator' came alive and started interacting with me during the show.
I bounce between theme and magic, and then back to theme, then to magic, kind of like a game of tennis. I then find the point in the middle with the best balance of entertainment and settle the show there, building in magic routines, science routines, new inventions and many other weird and wacky 'things' that I come across. It's a scary journey, but when you get to the end product (standing on stage delivering) it's the most satisfying things ever. Believe me.
So where should you start? Well, get a pencil and paper (or your note app on your phone) and start answering these questions.
What are your loves (outside magic)? What do you want to say to people? What are your strengths and also importantly your weaknesses? How can you display these? What magic tricks do you like? Why? (Ask yourself this 7 times, every time being as honest as you can and you should get to the reason why a trick appeals to you or really works for you). There's not really much about a show here, but you'll now be staring at a piece of paper with lots of words on it. There's nothing more daunting than starting with nothing, so don't do that. Start with something – with you and your stories. This is what people want to hear. Especially as the character of the magician is almost always driven by the character of you! The performer!
In about two and a half months I premier two new shows NEON FUTURE and AND FOR MY NEXT TRICK 2 at the EDINBURGH FRINGE FESTIVAL. I'm going through the same process.
In preparation for this I've just finished reading FREE WILL by SAM HARRIS and (to temper sam's thoughts) 12 RULES FOR LIFE by JORDAN PERTERSON. These new age intellectuals and their online debates have been inspiring for me to watch of late. I can't get enough to be honest!
In magic, I'm rewatching DAVID WILLIAMSON videos whenever I have the chance. Truly one of the greatest magicians of our time. His biggest asset is his character, you can't take your eyes off of him, you can't predict what he's going to do next… It's intoxicating! AND allows him to pull off some very bold sleight of hand!
I've been reading Price Waterhouse Cooper financial projections for the world's economy after the impact of AI has been taken into account.
I've been watching crazy Russian do weird science experiments and questioning why he has so many youtube followers…
Basically I've been being myself. But I've been keeping track 🙂 writing stuff down and constantly questioning why.
Hope that helps!
Kevin